Christmas is perhaps one of the best times of the year. Promoting your products and services over this festive season can bring new opportunities to attract prospective customers and boost sales.
Regardless of the industry you are in, there is most likely an opportunity to get some extra conversions during Christmas. However, capturing buyers' interest is challenging given the number of online stores and promotions going live.
If you are looking to make your offerings and out from your competitors, then this article is for you. We have created a list of 7 top-notch Christmas marketing tips that are most likely to bring more sales and help you develop stronger relationships with your prospects by creating amazing experiences.
7 Top-notch Christmas Marketing Tips
#1 Design your homepage that gives a Christmas feel
A dose of holiday cheer begins with designing the homepage with Christmas elements. The homepage is the first interaction point and a warm welcome will certainly turn on your visitors' celebration mood.
Hence, welcome them with festive graphics. Don't go on to change the entire design of the website, but add little festive decorations to different elements of your website that creates a warm Christmas atmosphere.
Consider adding Christmas elements to your logo, using decorative and festive fonts, designing festive call-to-actions, creating a snowfall effect and a pop-up wishing 'Merry Christmas'. While adding these elements, just make sure they match your present website color and theme.
#2 Offer personalized gift bundles
A concept of the gift bundle is to combine similar products in one pack and offer them at a discount price. For instance, if you are selling mobile phones, headphones and phone covers in your online store, then you can combine them in a package and sell them at a reduced price.
Know that people love receiving discounts that motivate their buying. For instance, if people find out that the cost of the individual items is higher than the combo, they are most likely to buy the combo and thus, increasing the order value. These gift bundles can also be offered as the end of the year discounts or festive coupons.
#3 Offer free gifts, discounts and coupons with their purchase
Everyone loves gifts. In fact, online storeowners claim that 50% of their buyers order more than one product if they are getting a free gift. Even if the customers are a few dollars away from being eligible for the gift, this reward will encourage them to spend extra. And, since Christmas is the gift-exchanging time of the year, this strategy will most certainly work.
Another great alternative to free gifts is giving discounts and coupon cards, which they can use around the year. Discount is an instant profit in the customer's view. It brings the sense of satisfaction that they have bought their desired product at a lesser price than actual. As a result, discounts work really quickly than anything.
#4 Host Christmas giveaways or contests
While talking about Christmas marketing ideas to generate more sales, the list isn't complete without creating interesting and engaging activity – giveaway. Giveaways and contests are an excellent way to create a buzz around any festival. It gives you an opportunity to put your product in the customer's hands and keep them engaged for hours.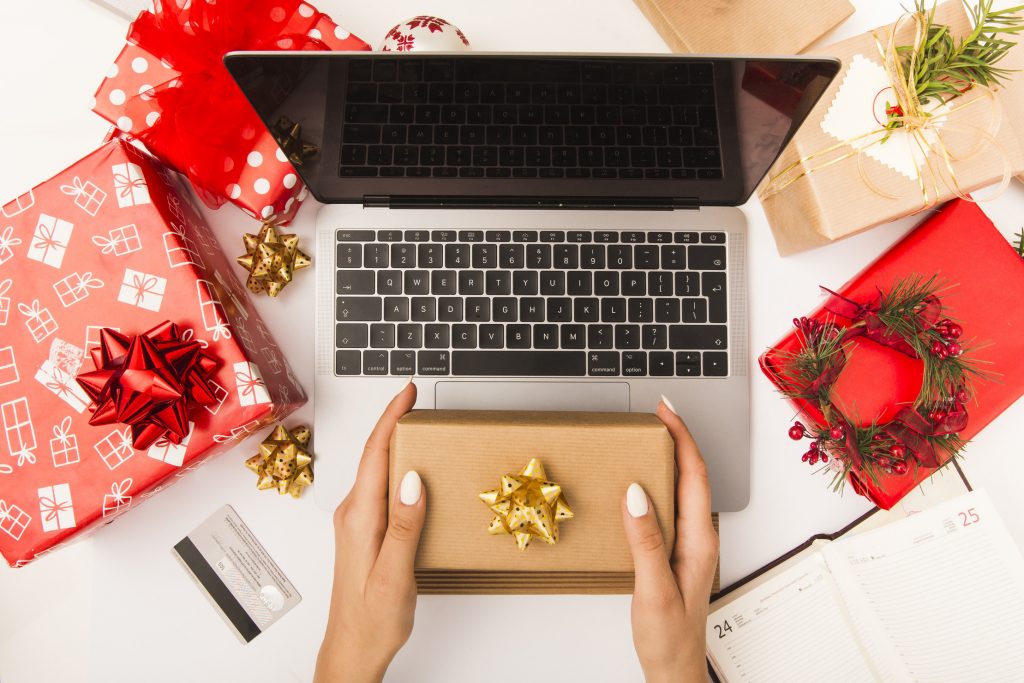 While holding a giveaway, you can set eligibility requirements, such as liking the post, sharing it on the social media accounts, subscribing to the channel and tagging multiple friends. A simple and effective way to host a contest is by running a 7-day Christmas program where you would post one question every day and the participant with the highest correct answers would receive the prize. This would lead to a greater brand visibility on social media.
#5 Launch Christmas-themed email campaign
Another great Christmas marketing idea is to leverage email marketing to target your existing customers. Email marketing is much more personal compared to social media, giving you ample opportunities for personalization that can boost your CTR by 8 times. In order to make your customers feel special, make use of Christmas-based template and be creative with your subject line.
Through emails, you can send exclusive member deals, gift cards and discount coupons, as well as target people who have abandoned the cart for some reason. Furthermore, you can create festive sale urgency that encourages your customers to act quickly. Since users have subscribed to your website, they are more likely to open your emails and consider your offerings.
#6 Provide free shipping and returns
People tend to shop from many different places during the festive season, and as a consequence, shipping costs can add up fast. Christmas shopping is already expensive and customers will easily choose a competitor that offers free shipping. Saving a few dollars on shipping can bring a sense of joy and relief to the customers, so consider offering free shipping on Christmas shopping.  
While you offer free delivery, you can also offer free returns. This gives your customers a confidence of buying a gift for someone knowing if they did not like the gift, they can return it with ease. Simply put, if you ease customers' worries and concerns, they are more likely to shop from you.
#7 Collaborate with influencers
Collaborating with influencers is another great way to boost your Christmas sales. Influencers have a large following on social media, which is an excellent way to promote your products to thousands of prospects. They can demonstrate the quality of your products and encourage their followers to make a purchase from you.
Running a Christmas campaign with the right follower can bring 20x return on investment. Instagram and Facebook are two major platforms for influencer marketing. Connect with an influencer in your industry and make them your brand ambassadors.
Conclusion
Christmas is full of sales opportunities for all types of businesses. The tips mentioned above require little investment of time and money, but can bring impressive results. We hope these tips help you in making the most of the festive season and enable you to earn sizeable profit.